From a legalistic perspective, we'll first turn to the law. In this case, the EPA's RMP rule…
68.15(a) The owner or operator of a stationary source with processes subject to Program 2 or Program 3 shall develop a management system to oversee the implementation of the risk management program elements.

68.15(b) The owner or operator shall assign a qualified person or position that has the overall responsibility for the development, implementation, and integration of the risk management program elements.

68.15(c) When responsibility for implementing individual requirements of this part is assigned to persons other than the person identified under paragraph (b) of this section, the names or positions of these people shall be documented and the lines of authority defined through an organization chart or similar document.
The short, legalistic answer is that the owner/operator is responsible. They must pick a qualified person who has overall responsibility for the program.
If the owner then chooses to break up the various requirements of the program to people other than that qualified person, they have to document all those people. In my programs, I call these people a "Responsible Person."
Ok, but how does this actually work. Let's imagine a small facility that is required to have a PSM/RMP program. They pick their Safety Manager, Sofía as their Process Safety coordinator, so she is now the person responsible under §68.15(b).
But, Sofía, while very knowledgeable in Safety and Environmental issues, is not as familiar with refrigeration or engineering. It's unlikely she'll be in the best position to manage most of the program elements on a day-to-day basis.  To address this issue, the facility decides to assign certain skilled people the responsibility for various program elements. They assign the Operating Procedure, Operator Training and Maintenance elements to Robert, their Maintenance Manager. They also decide to assign the Process Safety Information, Management of Change and Pre-Startup Safety Review elements to Jaylen, their Plant Engineer.  Because he usually manages them anyway, they assign Benny, the Lead Operator, the Contractor element. Of course, all these people are going to rely on the knowledge and experience of each other, the Facility Manager John, and the other operators, Tessa, Faraz, and Tiah.
This might be getting a little confusing at this point, which is why §68.15(c) wants us to document these assignments. For example:
| | |
| --- | --- |
| Program Element | Responsible Person |
| Overall PSM / RMP Management System | PSM Coordinator |
| Risk Management Plan (RMP) | PSM Coordinator |
| Process Safety Information | Plant Engineer |
| Employee Participation | PSM Coordinator |
| Process Hazard Analysis | PSM Coordinator |
| Operating Procedures | Maintenance Manager |
| Operator Training | Maintenance Manager |
| Contractor Qualification and Safety | Lead Operator |
| Pre-Startup Safety Review | Plant Engineer |
| Hot Work Permit | PSM Coordinator |
| Incident Investigation | PSM Coordinator |
| Mechanical Integrity | Maintenance Manager |
| Management of Change (MOC) | Plant Engineer |
| Emergency Response Plan | PSM Coordinator |
| Compliance Audits | PSM Coordinator |
| Trade Secrets | PSM Coordinator |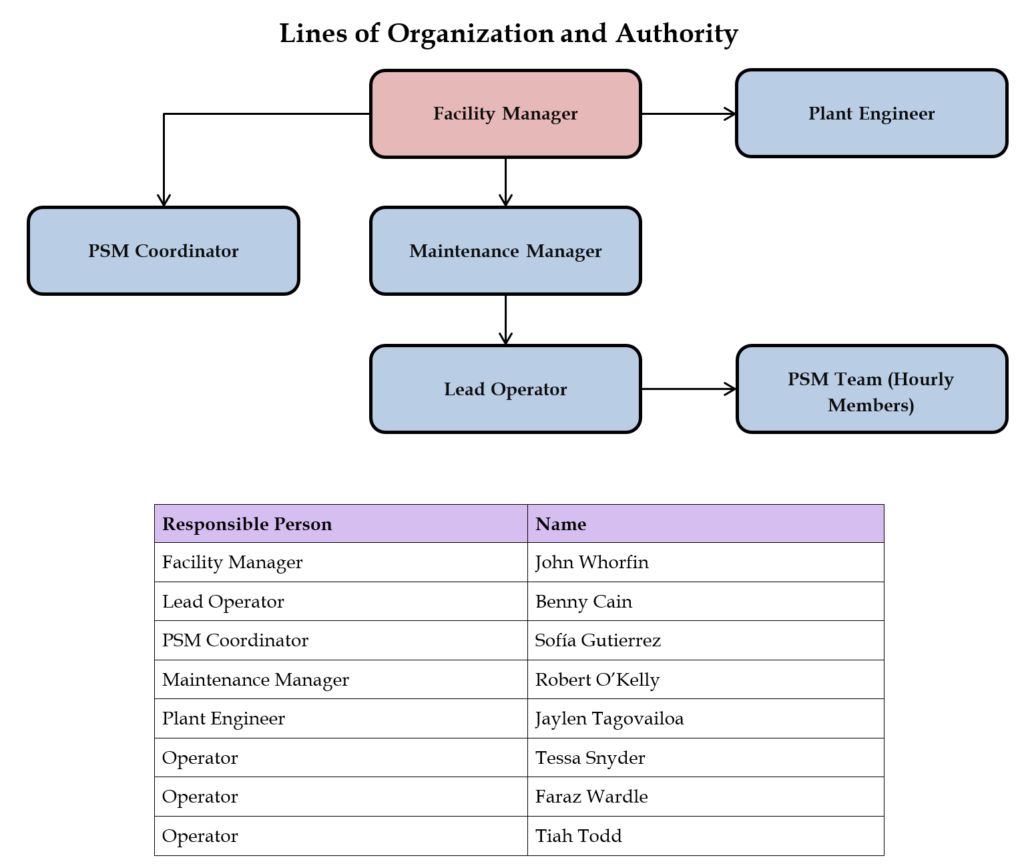 How a facility arranges the responsibilities is entirely up to them as long as they can make the case that the person assigned as a "Responsible Person" is qualified to handle the work being assigned to them.
On a practical level, your Management System should also:
Show what person is responsible for each PSM/RMP element / requirement
Ensure that only one person is responsible for each requirement
Make it clear that a Responsible Person can't authorize their own work requests, such as Hot Work, MOC, PSSR, etc.
Be easily understood by everyone involved
Please note, that just because someone is responsible for an element, doesn't necessarily mean they are actually doing the work. They are just responsible for ensuring the work is done. A good example outside of PSM is the facility manager of a chicken plant. That facility manager is responsible for ensuring that food safety regulations are met so the chicken is cooled in an appropriate time-frame. It is extremely unlikely that the plant manager actually handles the chicken, the cooling equipment, etc. They simply provide the resources and oversight to ensure the work is done properly.
A good PSM example might be Operating Procedures. In our case, we've assigned them to the Maintenance Manager. It is likely that the actual initial creation and review of the operating procedures is done entirely by the operators. Based on the results of that review, the Responsible Person would ensure that appropriate revisions are made and then certify the procedures.
Feel free to contact us If you want templates of a PSM/RMP management system.