The IIAR announced that two standards are up for their second public review. IIAR 4 Installation of Closed-Circuit Ammonia Refrigeration Systems and IIAR 8 Decommissioning of Closed-Circuit Ammonia Refrigeration Systems.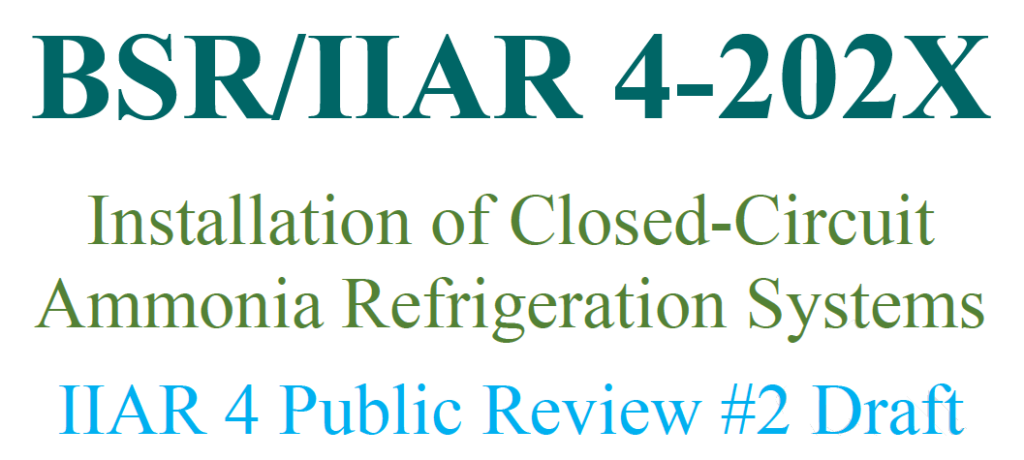 My IIAR 4 2020 PR2 Comments and Notes
1.3.4 Installations without an AHJ
This section appears to be rewritten for clarity, but it also removes the requirements that "alternative shall be documented in the design documents and provided to the owner and the installer." This will definitely become a problem down the road when end-users are asked to justify their apparent non-compliance without adequate documentation of the designers engineering rationale.
4.2 Supervisor of Installation (Installer Qualifications)
This section has been revised and adds a requirement that Installing Contractors provide documentation to the facility that they have the skills necessary to:
Receive, transport, and install refrigeration equipment, piping, and components.
Assemble a refrigeration system.
Not harm themselves, others, or damage the structure in which the equipment is to be installed
I imagine this will be handled by some sort of "Letter to File" from the contractor.
4.5 Welding of Pressure Containing Components (Repeated in 4.6)
This change requires the contractor to provide the Welding Performance Qualification Record (WPQRs) for the past six months rather than the previous requirement that they just verify the welder's credentials were not expired. This is going to be challenge to contractors. End-users should aggressively soliciit this information if they expect it in a timely fashion.
4.8.6 now explicitly requires that insulated pipe be spaced to allow access for inspections / maintenance. This was always a good idea.
4.9.1 now requires complete thread engagement rather than "3 exposed threads"
6.2.1 removes "reasonably free of rust" and replaces it with "free of pitting." Internally, you should probably stick with the old requirement.
6.3.5 no longer allows valves connecting to atmosphere to be "locked closed" as they must now be capped, plugged or blind flanged. I don't know of anyone that allowed a valve open to atmosphere to be locked closed without a plug / cap so this isn't much of a change in the field.
IIAR 4 Links

My IIAR 8 2020 PR2 Comments and Notes
Note: Please keep in mind that, according to IIAR 1, decommissioning is "The permanent deactivation of a closed-circuit refrigeration system or part thereof."
4.6 Documentation
This section moved the suggested methods to the appendix where they belong. Well-implemented PSM programs will likely handle all this documentation as a matter-of-course through their existing MOC, PSSR & PHA policies.
4.10 Operating Procedures
This change ONLY affects procedures for decontamination, but it removes the requirement that such procedures comply with IIAR 7. Those procedures would still likely be judged under 1910.119(f). Whenever there is some grey area as to whether a procedure falls under 1910.119(f)(1-4) or 1910.119(j) it's always wise to link back both. My preferred language is something along the lines of "This procedure must be used in conjunction with the equipment SOP which provides Important Safety, Health, Environmental and Equipment Considerations as well as Controls, Instrumentation, Safety Systems, Valve Designations, Operating Limits, Consequences of Deviation, Steps Required to Correct or Avoid Deviation and an Emergency Shutdown procedure."
4.12.2 Training Records
They've reworded this section to require a "sign off sheet" to document that people "received" the training rather than using the PSM/RMP language that you document the "means used to verify" that they "understood" the training. IIAR 8 doesn't over-ride the existing PSM/RMP requirements, so this has little impact.
5.2.3.3 removes the prohibition on "fuel burning appliances" and provides some bromides about conducting such work "safely." Our template program will continue to prohibit this. While there are obviously situations – especially during decommissioning activities – that may warrant their use, we want to ensure that such activities are run through an MOC (or similar administrative control) before their use.
5.3.1.1 changes the requirement that you track chemicals to their ultimate disposal to one that you document that they've left the facility. This is sensible and welcome.
IIAR 8 links
If you have comments on the IIAR's suggested changes, don't forget to hit up the comment links above.